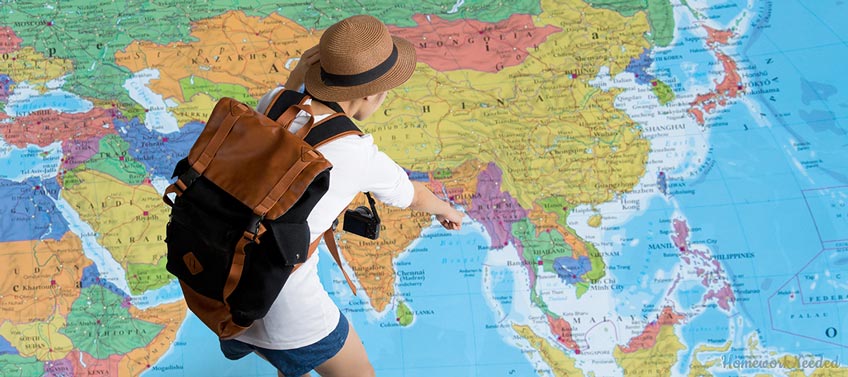 If you asked any former student about their time at university, most of them would describe it as a place to meet the best friends for life, decide on the future plans, and gain a lot of experience and knowledge. However, hardly would anybody argue that assignments, deadlines, and essays can be stressful. That is why students are the first people in the line for rest (or second, if you count shocked and sleepy mothers of little children). Of course, traveling is the best way to unwind and clear thoughts. It has to be bright, exciting and undoubtedly cheap because we are talking about students here. Here are the best travel destinations for students.
Peru
If you want to switch from the dull university days to a completely different weather, then you would enjoy traveling to this country of the warmth and adventure. Peru is one of the most appealing destinations for a traveler not only because of the engaging landscapes. It is also a home for a lot of historical places like a lost town of Machu Picchu. Captivating history, warm weather, inviting community and aesthetic sights – all this will make your journey unforgettable. Also, do not forget to visit the City of Kings with the gorgeous name Lima. You would certainly have something to tell in your essay about traveling back at the university. If you want to buy an essay on this topic, we will definitely find experts in these places for you to get a brilliant piece.
Turkey
Another very affordable travel destination for students is as sunny and warm as Peru. Turkey can boast a very appealing history, that is for sure. Who has not heard about sultans? During the journey, you would be able to know a lot about this unique culture. Actually, Turkey is a great combination of old times and modernity. Be sure that Istanbul will surprise you with good parties! The unique experience will make your essay the most extraordinary in your class. Do not forget to highlight the sights – Library of Celsus, Hagia Sophia, and Cappadocia.
Spain
If you want to choose a country from Europe, then try Spain. Though Spain might not be the cheapest country on our list, it is certainly worth visiting. In every corner of this country you will find a place to visit a good party. You will spend the day in the museums and ancient castles, but the night will be filled with bright colors of Spanish music, dances, and people. Madrid, Barcelona, Leon – you have lots of cities to choose from. Your essay will be composed of alluring sights – Puerta del Sol, Plaza Mayor, and Casa Batllo.
Croatia
Do not be fooled that the best landscapes and sights were taken by more famous European countries. Croatia is a small island paradise for those who want to leave all worries behind and breathe some fresh air peacefully. You can either swim in the clear waters of the Black Sea and walk on the coastal area above it or you can go through the list of museums, shops, and fancy bars in the cities of Zagreb, Zadar and Dubrovnik – whichever works best for you. Croatia's history is worth exploring, too - another country to mention in your essay. Even more, you can write it, while lying on the beach and taking a sunbath. However, if you do not feel like distracting yourself by essay writing during you holidays, Homeworkneeded.Com is ready to give you a helping hand.
Vietnam
Let's explore the East now. We are heading to Vietnam, the unique travel destination for students that will give you some positive energy and experience. The centers of cultural life in the country are cities Hanoi and Ho Chi Minh – you will find everything you desire there, from unique shops to noisy bars. This country will make you write an essay about real food traveling. Vietnamese cuisine is really worth trying – nuoc mam and goi cuon are waiting for you.
Now you know how to describe the best destinations for students, only try to choose one country. That is a hard choice, for sure.