There are a lot of tools out there that can help you to look at a college online without setting your foot at the campus. But there is no better options for figuring out whether a college is right for you than visiting it. So, why is it really important to physically go there and explore a college?
Most educational institutions do not place a huge importance on a college visit, mostly because the schools can't play favorites with students who have the time and can afford to pay for a visit. But let's look beyond: what the college admission office thinks of it. Is it going to be beneficial to you? Definitely yes.
Any visit is important to you, even if you come back home hating everything you saw because then you know what you are looking for. You realize you do not want your college to look that way, you want to be on a campus which is surrounded by cosmopolitan city and not in the middle of nowhere. You may not have found that on the website or in a college book.
Try to visit a college when it is an exam period. There are students walking around, people biking, eating, sitting in the yard. That is going to give you the vibe of what college is. If it is only you, tour guide and empty college, you will not get a true feel of what it would be like to be a student here.
Imagine you have decided to take a college visit. I know that the question like "What to wear on a college visit" is one of the latest in your list. But believe me, it will catch you off guard. So, it is better to take care of it now.
Tips on What to Wear on a College Visit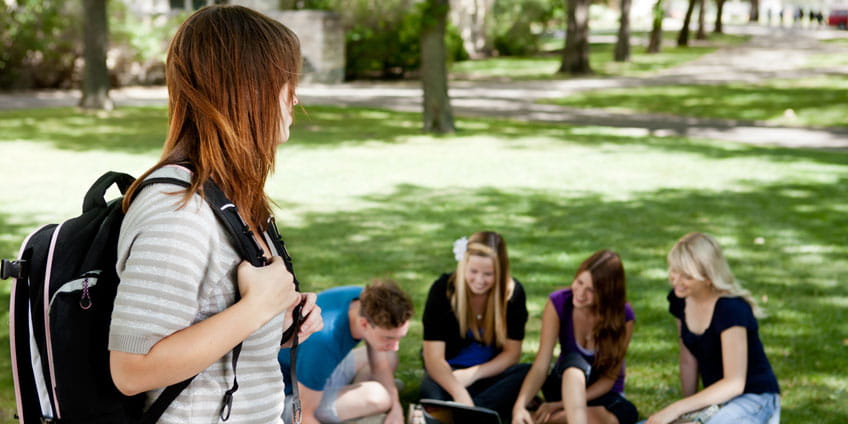 When I had to choose the outfit for a college visit, my father thought I had to wear nice blouse and skirt, mum said to wear a suit as though I am on a job interview, and I wanted to wear an everyday uniform – a sweatshirt and jeans. So, which one is the best option?
The first impression is based entirely on your attire and is formed within less than 30 seconds. They say you never get a second chance to make a first impression. That is why you should choose the outfit for a college visit wisely.
The first thing that matters here is color. You can actually influence other people's impression by using the color of your clothes. For example, to make a powerful impression you can choose clothes with contrasting colors. Do not be afraid to show a little bit of personality in the color of your shirt or blouse. At the same time, pastel colors can help you win people's trust. But, the key rule is not to overdo it.
A business suit is not the best choice for a college visit. Admission representatives may think you are showing off. This stereotype exists. On a subconsciousness level, people think that only highly qualified workers, not students with a lot of ambitions, are dressing this way.
Speaking of prints, let's party like it is 1999. It is better to avoid animal prints no matter what college you are visiting. Keep you leopard dress for a night out. My personal advice: throw it away at all. What about flower print outfit? A tasteful dress that does not reveal your neckline and ends around one inch above the very top of your knee will do just fine.
Examples of Outfit to Wear on a College Visit
The answer for questions like "What to wear on a sports college visit?", "What to wear on a college football visit" and "What to wear on a college visit" is one and the same – business casual attire that will give off the impression of a mature and prepared student who takes this process seriously.
If it is a summer, do not ask me "What to wear on a summer college visit?" No one (and I mean NO ONE) will particularly take notice of you unless you strip naked and dance across the lawn. Just please, do not wear a shirt with the name of another college.
So, there a few tips for both girls and guys on what to wear on an official college visit. Think of it as a job interview. You want to be professional but also comfortable. Agree, that there is no need to dress up but I would still keep the outfit neat and clean. You may bump into admissions officers and/or future classmates and you do not want to stand out in a bad way. Nothing at all suggestive, no ripped clothing, no graphic shirts. Keep hairstyles simple and classic. Avoid crazy styles or colors. Chances are you own an iron, use it. Take this opportunity to showcase yourself and make a lasting impression. While visiting the college, forget about sunglasses and flip-flops.  
Girls' Outfit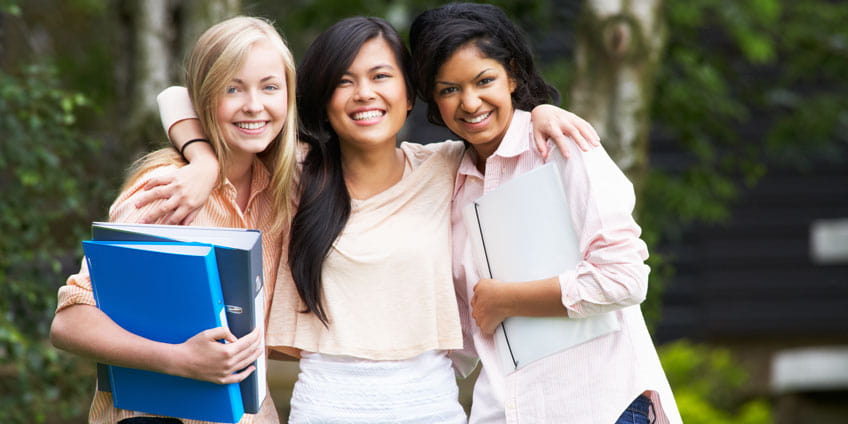 If you are smart, dress to show it. Pencil skirt (not super short) and a neat shirt should do the trick. You want to look presentable to the admission's representatives, but you do not have to be fancy. If you prefer wearing a sundress in the heat that is fine too (make sure it is neither too short, nor suggestive). Make sure that if you go for a skirt, it is at your knee and that your blouses neckline is pretty conservative. The best way to enter the college is with the confidence that you can gain from an awesome outfit. Look good, feel good.
Ladies, knee-length skirt or dress slacks with a simple blouse are just right. Blazer is also your best friend. I would say, this is the place to start in term of building up your outfit. It signals a little bit of your seriousness but it is also not too conservative. So, grab the blazer and pop it over either a black dress, a pair of dark jeans or tailored pants. And a shirt, of course. It can have a pop of color. Look for things that are tailored. I would not venture into denim too much. If you feel it is appropriate, stay with dark denim without any rips or treatments. If you choose to experiment with colors, you do not have to add any extra accessories or jewelry.
Opt for the comfiest pair of shoes so you can handle walking around all day and have your feet not hurt at the end of the day. Forget about heels. The college visit is a lot of walking. No platforms and spiked, six-inch heels and sneakers. They would take away from your already professional outfit we have just put together.
Wear a small and elegant piece of jewelry. Minimize piercings to earrings. Too much metal will distract from your personality. Go easy on the perfume. Too much would be another distraction. You do not want to be a reason for an allergy attack, do you?
Ladies, simplify the eye makeup. It should look natural and light. Indeed, it is better to impress the admission representatives with smart questions and glowing eyes.
Men's Outfit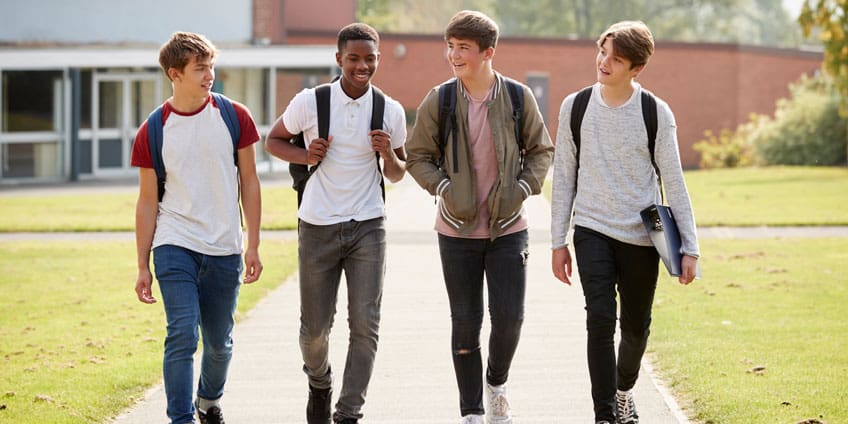 To choose the right outfit for men is an easy case. The classics rule! Pants with a belt and a collared button-down shirt tucked in is perfect. Wear clothes that fit properly. Just show up clean shaven or with well-groomed facial hair. Yes, that is it. And believe me, the best thing you can wear on a college visit is your smile.