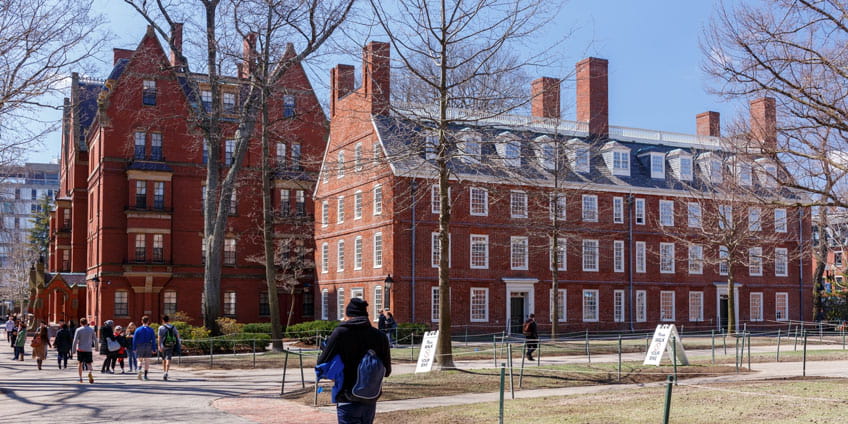 If you are wondering what the hardest college to get into is, the following information will not surprise you, probably. Haven't you guessed yet? According to a 2019 ranking by an academic review website niche.com, the most difficult college to get into in the United States is the Harvard University. Now let's dive into the subject in question.
Apart from the Harvard University, there is a vast array of other decent colleges to get into equally difficult. For more information considering this matter, take a look at the table at the end of the article.
Nevertheless, the Harvard University is the world's premier academic institution in history. It was founded in 1636 by English minister John Harvard. And it is considered to be the oldest higher educational institution in the United States.
Its well-renown graduates were awarded Nobel Prizes in different categories (e.g. physics, chemistry, economics, literature, peace, and so forth). The number of Nobel Prize winners from other world's premier colleges, like the University of Cambridge or the University of Oxford is impressive, too. Perhaps, that is one of the reasons to attempt to get into these universities. Highly motivational, isn't it?
If doing your homework has resulted in a deadlock, benefit from the college homework help service that will ensure high-level quality assistance along the way.
Get into the Best US College: Is it Worth It?
Now let's step into this topic further. Does academic prestige matter to you? For many people it does, no doubt, but for a good reason. Studying at the Harvard University (or another similar institution) offers numerable advantages. To begin with, such aspects as diversity, campus life, and safety are unquestionable.
In addition, knowledgeable professors will teach you the best practices you could ever imagine, share their experience and knowledge. You can take part in various conferences, events, and other venues.
Students have access to great libraries, where they can find rare books, maps, and even music. At museums, you can enjoy truly remarkable collections. It is possible to relax or study in the university parks, where you may find rivers, or ponds, beautiful trees and plants, and sometimes even animals.
The brightest students in the world take advantages of cutting-edge methodologies to tackle global issues in the fields of Science and Technology, Arts and Humanities, and many more since they have access to multiple research centers.
Word's preeminent academics, scientists, political figures, authors, entrepreneurs graduated from this college. Their academic performance and achievements allowed to push boundaries and expand horizons in the global arena. So is it worth to get into the best US college? The answer is: yes, for sure.
How to Get into the World's Premier Colleges
World-class colleges open unique opportunities for its students. But keep in mind, college entry requirements are extremely demanding. Still, it is a worthwhile venture. Moreover, it will be rewarding in the end. Only think about job opportunities!
After graduating, you can be sure you will find your path in life. The majority of graduates get a great job with a good salary. More often than not, they do have higher chances to get better job offers in comparison to those people with less prestigious diplomas.
As mentioned, admission requirements are very strict. And the possibility of admission is low unless your profile is truly immaculate. Obviously, you need a perfect SAT/ACT score in order to get into one of the elite colleges. However, your personality also matters, your interests, projects, and aspirations.  
Although tuition fees are not the most affordable ones, the college entrance rate is rather high and competitive as well. Besides, a number of opportunities are available to get grants, scholarships, or other financial support. Which means it is not completely impossible to get into one of these colleges.
To summarize, take a look at the ranking table below to discover what is the hardest college to get into in the US and other relevant institutions in 2019. According to the data provided by the academic review website niche.com, the list is the following:
| | | |
| --- | --- | --- |
| # | Educational Institution | Acceptance rate |
| 1. | Harvard University | 5% |
| 2. | Stanford University | 5% |
| 3. | California Institute of Technology | 8% |
| 4. | Yale University | 6% |
| 5. | Princeton University | 7% |
| 6. | Massachusetts Institute of Technology | 8% |
| 7. | University of Chicago | 8% |
| 8. | Columbia University | 7% |
| 9. | Vanderbilt University | 11% |
| 10. | University of Pennsylvania | 9% |
According to the QS World University Ranking 2019, there is even more extensive list of elite educational institutions to get into in different countries, which admission requirements are also very demanding. And the quality of education is unrivaled.  
| | | |
| --- | --- | --- |
| # | Educational Institution | Location |
| 1. | University of Oxford | United Kingdom |
| 2. | University of Cambridge | United Kingdom |
| 3. | ETH Zurich – Swiss Federal Institute of Technology | Switzerland |
| 4. | Imperial College London | United Kingdom |
| 5. | University College London | United Kingdom |
| 6. | Nanyang Technological University | Singapore |
| 7. | Tsinghua University | China |
| 8. | University of Edinburgh | United Kingdom |
| 9. | EPFL – Ecole Polytechnique Federale de Lausanne | Switzerland |
| 10. | University of Tokyo | Japan |