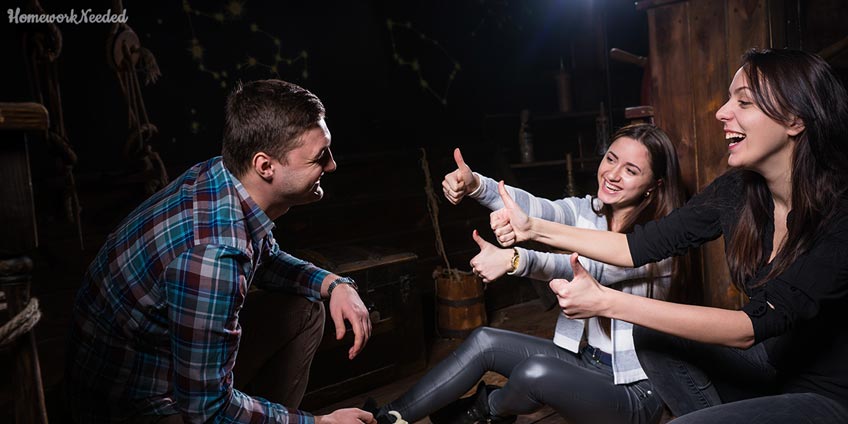 Sometimes there are moments, when hands just betray you and fall down. You lose motivation and optimism. Still, there are some effective ways to become happy again.
1. Start from Smaller Things

When someone gives you a piece of advice like that, they often mean "Call your friend and invite him or her for a cup of coffee". No. Start from even smaller things. First, put on your clothes.

Set up the goal to exercise for five minutes. Now get up and do that. Done? Great, you can be proud of yourself.

You meet the mood everyone meets sometimes. You have lost your faith in ability to do what you want. Do not panic, this happens all the time. Choose the task the result of which depends on you exclusively, set up the deadline, and complete that task. Repeat these actions until you feel yourself ready to proceed for more complicated tasks.   

The principle "pretend, until you believe something to be true" does not always work. The point is, you are conscious about your being pretending all the time. You remind yourself about that on purpose. Pretending ruins your confidence in own abilities and powers. Your spark will burn out after first difficulties appear.

Try as hard as you can and do not give up. Do not dare to be perfect.

You'll notice that fire inside of you hasn't burned out yet, you just need to add some wood there.

2. Stop to Agree

Many people agree to do job they hate, buy useless things and pass the bad attitude towards themselves. And their life stops to bring them satisfaction.

People worry about smaller things that come from outside. They let themselves to believe they can get everything at the click of their finger. Have you met at least one person who really got that?

Set up priorities. Decide what is the most important for you at the moment.

Throw down chains, concentrate on main things.

What you agree with will take your free time, attention and money. Only you decide what it will be. Do not make a false choice.

3. Combine Your Strengths

Gary Vaynerchuk was good at vines, videos and business. He launched Wine Library TV – web-cast about vine. Steve Jobs was good at technologies and design. He created Mac. P. Diddy (Sean Combs), American rapper and producer, is good at music, people and has a taste of style. He created his own clothes brand Sean John.

Many people create a list of their skills, and then think how to use them correctly. Try to go another way. Take a look at your talents at once. Try to combine them. You'll get the unique pack of skills and interests.

Find out what differs you from the others and what is able to help you gain success in the desired field. Then create a plan of your actions. You'll understand how cool is to be yourself.

4. Plan Your Budget

When starting to think positively, humans count on any magical help from aside: lottery win, relatives' help, great love, another job… Stop! Don't get driven mad.

The ability to create something important despite obvious obstacles, is one of the best qualities of every human. You need to cultivate this feature in yourself. But you can't hope that someone or something will deal with everything instead of you. Plan your budget. Even if it is difficult, terrible, boring, and if there is nothing to plan really.

If you want to stand on your ground solidly and to be financially independent, take responsibility for your life on yourself. Then you'll act, not just dream.

5. Get Rid of Ill-Wishers

You waste lots of energy to stay cold-blooded when let a crowd of haters enter your life. This does not make sense.

Just do not let them provoke you. Do not pay attention to haters even if they are your close ones. Stand your ground. Then nobody will be able to break your faith.

Surround yourself with those who will not pull you to the ground. With those, who will support your goals and wishes. This is how you will understand that many of your doubts are only echoes of words you heard about yourself.